LIVE BOARD and Seedooh conduct proof of concept trial to prepare for the future of DOOH
LIVE BOARD Inc. (LIVE BOARD), Japan's first impression-based DOOH network, has announced it and Seedooh, the leading independent verification platform (IVP) for public space media, have conducted a successful proof of concept network trial.
Seedooh's IVP specialises in 3rd party verified reporting of campaign playout across OOH, cinema and stadia networks. Proven at scale, Seedooh has streamlined the campaign verification and reporting process on over 30,000 OOH campaigns since launching in Australia in 2017.
Ichiro Jinnai, LIVE BOARD President and CEO said "Brands and agencies from all over the world will soon have access to premium DOOH networks across Japan, with robust and standardised, high fidelity audience metrics, enabling them to share specific and relevant messages with their high value customers."
He added, "It is critical that advertisers have confidence and trust that their messages are being delivered as intended. We know this from the digital world and DOOH must also address this requirement, particularly in the programmatic future. To meet this demand, we have been working closely with Seedooh's expert team to ensure that LIVE BOARD can satisfy the stringent requirements of their Independent Verification Platform. The real-time connection of data at scale - and of course the global best practice assurance controls framework - make Seedooh the leading source of confidence anywhere in the world, specifically tailored for DOOH. We look forward to providing all advertisers using the LIVE BOARD AdNetwork and LIVE BOARD Marketplace, with the ultimate proof-of-play."
The full system integrations are now progressing. Once live, the Seedooh platform will enable all agencies and advertisers using the LIVE BOARD network, to access independently verified campaign playout data via the real time, interactive dashboard. Data is verified in accordance with global best practice assurance standards, and can be queried and analysed at an extremely granular level, across a suite of DOOH relevant metrics.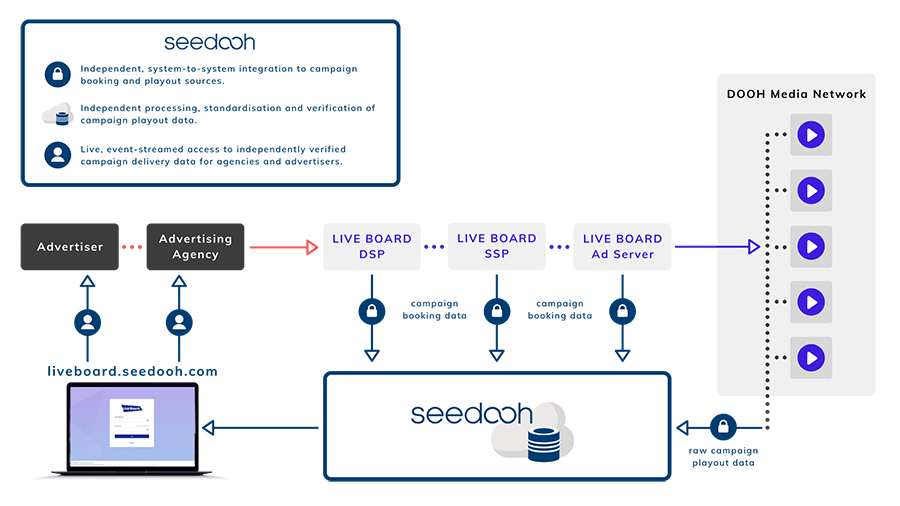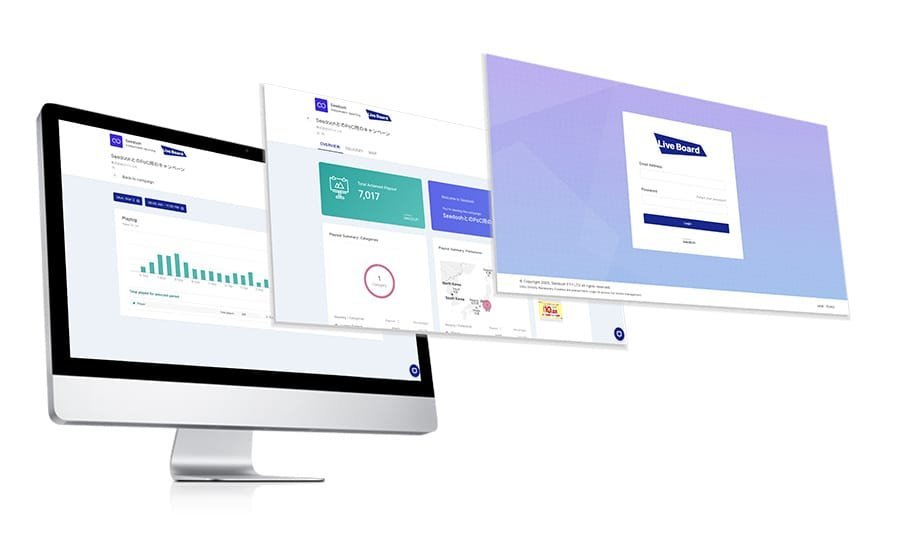 Tom Richter, Seedooh Founder and CEO said: "The LIVE BOARD vision is one of standardisation, data-led automation and a market-scale programmatic ecosystem for DOOH in Japan, the third largest OOH market in the world. As advocates of the connected future for the global sector, we're delighted to be providing a market ready solution that delivers LIVE BOARD the independent transparency required to succeed in this ambition.
About LIVE BOARD
With our "Figure the Real World" slogan, LIVE BOARD's mission is to redefine the value of the "real world" and to rapidly revitalize Japan's underdeveloped DOOH market. We will build a DOOH ad network together with our stakeholders and become Japan's first impression-based DOOH ad platform. Please vist us at https://www.liveboard.co.jp/en/.
About Seedooh
Seedooh is a fully independent technology platform specifically designed, built (and proven at scale) to provide complete and standardised reporting for buyers and sellers in the Out of Home industry. Since launch in Australia in July 2017, Seedooh has provided third party reporting on over 30,000 campaign bookings, by actively consuming, analyzing and verifying log level data from more than 50,000 continuously monitored panels - to over 2,000 registered platform users.
It is the only fully independent reporting system that provides near real-time, third party verification of display for both digital and traditional formats. The efficiencies of tandardised and automated reporting are significant for both buy and sell-side users. The level of confidence in the data is ensured by the Seedooh Confidence Framework which demands best practice data controls are applied and assessed against globally recognised reporting standards.
Seedooh has an alignment with PwC to provide further market confidence in the platform's ability to independently verify the integrity of campaign delivery data.
Please vist us at https://www.seedooh.com
For More information, press only:
LIVE BOARD Inc,
PR secretariat(Dentsu Public Relations Inc.),
info.release@liveboard.co.jp
Seedooh,
contact@seedooh.com